When life is doing the most and you can't seem to find up from down, that's a good time to refresh your faith. 
Life be life-ing sometimes, am I right? One minute you're putting on diapers and the next you're making graduation plans and struggling with a teen with Senioritis (shout out to the class of '22!). Or you're working on a project and making good strides until you hit a wall or you have to stop because you need (fill in the blank). What do you do? Do you keep going in circles trying to figure out how to get through it all? Do you reach out to your friends/family for help? Or do you just sit still and wait, hoping the issue will magically disappear?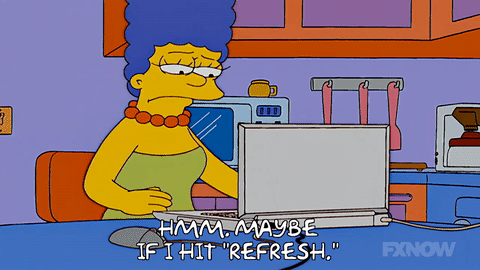 Let's look at it from another point of view. When you're online and the website you're viewing starts to act funny, freeze, or just didn't load right, what do you do?
Sometimes a good refresh is exactly what you need to be able to get a better view of your situation so you can continue on and complete your task.
It's the same with your faith. You know how strong it is, you lean on it all the time, but sometimes… things get slow, stale, uncertain, confusing, off track, etc. You need to refresh your faith so you can remember how good God is and how it feels to receive His love. You have to shift your focus back to where your strength comes from so you can get the most out of it. 
This month we will study God, His son Jesus, the Holy Spirit, and the impact the Trinity has had over time. You'll be prompted to think about things like how you would respond in certain situations, and the differences between things that happened then and things in your life today. The goal is to refresh your faith by the end of the month so you can go into the next with a stronger spirit. 
I pray that something you read this month will inspire you to reintroduce God to someone you know whose faith has seemingly waned.
Blessings,
Click to download the printable workbook
Did you know that there are 4 years worth of Bible Study archives?
Check it out in case you'd like to study something different!